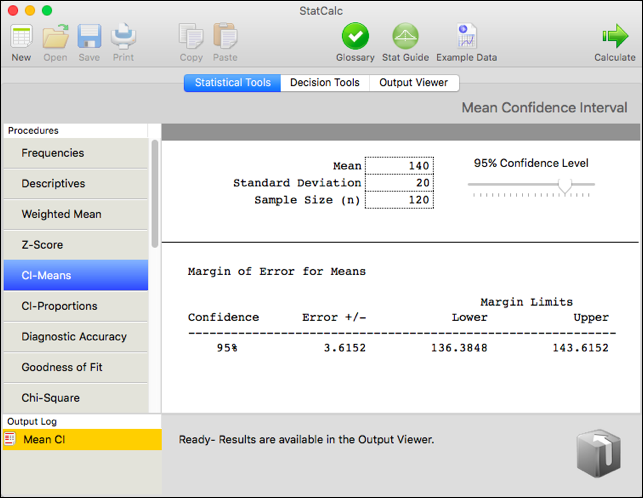 Posted on
StatCalc
StatCalc
Rating: 7,0/10

4580

reviews
This tool calculates static loads and deformations on smooth pipes, according to UNE 53331 IN.Pipelife recommends using the last version of EasyPipe98 from IngSoft GmbH for calculations according the latest version of ATV-DVWK-A 127. From the Epi Info 7 main menu, select StatCalc. Select one of the following calculations using the up and down arrow keys or click: Sample Size & Power, Chi Square for Trend, Tables (2X2, 2Xn), Poisson (rare event vs. Std.) or Binomial (proportion vs.
My statistical knowledge and base continues to increase significantlynow with each additional Statistics.com course taken. While I may not be usingall the learnings directly in my day-to-day work (for example, regressionmodeling or calculating sample sizes), they are all influencing how I thinkabout, approach, and work with data every day; the way in which I describe andpresent data and findings to others; and the way in which I interpret otherstudies and reports from other researchers, analysts, and statisticians, etc.
: • Fixed SP Increase Potion adding absolute amount (thanks Pred). • Ordered weapon type list. • Fixed EXP sharing in party and EXP tap bonus. • Implemented Striking ATK/CRIT bonuses. - Gamuza: • Fixed a bug in offensive Heal formula. • Fixed Killing Stroke formula. • Fixed Venom Splasher formula.
• Fixed Soul Destroyer formula. Now based on MATK (will need your feedback on this).
- Gamuza: • Dark Claw debuff now only applies on non-Boss monsters. • Fixed the speed issue with the Experience Calculator.
Wol. • Re-implemented current EXP/jEXP inputs to the Experience Calculator. • Re-ordered and sorted active (battle) skill lists.
• Changed internally the way some of the cards are identified. • Re-ordered the Pet list. • Re-ordered the Temporary Effect list. - Gamuza: • Updated the HP/SP tables for 3rd Jobs up to Lv.175 and Kagerou/Oboro up to Lv.160 with current iRO values. • Implemented new 3rd Job skills.
• Attack Skills: Dark Claw, Dragon Water Breath, Hallucination Drug, Lava Flow. Flash Combo not implemented yet. • Self Buff Skills: Intense Telekinesis, No Limits, Offertorium, Full Throttle. • Maestro/Wanderer Solo: Frigg's Song. • Monster Debuffs: Dark Claw. • Not Applicable: Elemental Shield, King's Grace. • Updated the base/job experience tables.
Also fixed the Experience calculator. Sometimes it's very slow, though.
• Extended Info now updates when changing base levels. • Reestructured the job list. • Fixed an annoying CSS/design bug in Firefox. • Fixed Gravitational Field formula and Odin's Power DEF/MDEF reduction. • Fixed some monster exclusive skills and added more skills to the list. - Gamuza: • Tweaked 3rd jobs HP values some more. They should be accurate up to Lv.150.
• Same goes for SP values. However, these should be accurate up to Lv.175. • Fixed SP values for Kagerou/Oboro.
• The 'Adopted' checkbox will only be available on jobs which allow adoption. • Fixed some newly introduced UI bugs. • Placeholders for new 3rd Job skills.
They do nothing at the moment. - Gamuza: Various fixes: • Maximum base level cap raised to 175 for 3rd Jobs. • Maximum stat limit raised to 130 for 3rd Jobs. • Added job bonuses up to Job Lv.60 for 3rd Jobs.
• Tweaked HP values of all jobs and modified Kagerou/Oboro, Rune Knight, Warlock, Mechanic and Sorcerer values. They should be more accurate now. • Fixed bonus HP for Super Novices at Base Lv.99.
Now it's not affected by VIT. • Fixed Mental Strength damage reduction. Fixed Assumptio defense increase. It was also doubling Soft DEF/MDEF.
Don't forget to take your medicine. Combat Results Hit Ratio 5% Dodge Ratio 1% Critical Damage 1 Critical Rate 0% Time/Hit 0. Hamster Ball Game. 9 sec Minimum Damage 1 Average Damage 1 Maximum Damage 1 Damage Per Second 0.06 Minimum Number of Hits Over 10000 Hits Average Number of Hits Over 10000 Hits Maximum Number of Hits Infinite (no 100% Hit) Average Battle Duration Too High to Calculate Base Exp Per Hit Immeasurable Job Exp Per Hit Immeasurable Enemy Skill: Average Damage Recieved 412 (377~446) (0% reduction) Average Damage Recieved (w/dodge) 407.88 Damage.